'Personal' donations to the Liberal Party came from vaping lobby during debate over policy
Four Corners has discovered the donations were made as part of a series of "roundtable events" with Coalition MPs and came amid furious disagreement within the former government over the future of e-cigarettes — or vapes — in Australia.
It's illegal to sell or possess nicotine vapes in Australia without a prescription.
A thriving black market has emerged in which cheap, disposable devices are sold on social media and under the counter in major tobacconist chains across the country.
As authorities struggle to stamp out illegal sales, the vaping industry and advocates — including some politicians — continue to push for broad legal access.
The fighting fund
According to electoral records, the Liberal Party received sums of $20,000, $15,000, $7,000 and $2,000 from 33-year-old Sydney man Brian Marlow last financial year.
Mr Marlow is the director of Legalise Vaping Australia, which campaigns for the right to buy and sell nicotine-containing vapes. The organisation is an off-shoot of a libertarian activist group, the Australian Taxpayers' Alliance.
Mr Marlow is also a friend of Liberal Senator Hollie Hughes, who is one of the Coalition's fiercest advocates for vaping as a tool to quit cigarette smoking.
Senator Hughes says their friendship has nothing to do with her stance.
"Surprisingly, I'm actually able to make up my own mind on issues. This might come as a shock to some people, but there are women in the Liberal Party who have their own minds and are able to determine what they feel about an issue."
Senator Hughes chaired a Senate committee inquiry into vaping in late 2020, in which she said that vaping was a form of "tobacco harm reduction" that had helped her go 60 days without a cigarette.
The senator's comments about the effectiveness of vaping as a method to quit smoking are at odds with research published in a government-commissioned report and the latest findings of the National Health and Medical Research Council
Senator Hollie Hughes speaking after a 2020 Senate inquiry into vaping, pictured with vaping advocate Brian Marlow (far left) Senator Eric Abetz and Senator Matt Canavan.(ABC News: Matt Roberts)
The $44,000 in donations was declared as coming from Mr Marlow personally: the disclosure forms make no mention of Legalise Vaping Australia or any vaping interests.
Having cancelled an interview with Four Corners, Mr Marlow responded in writing, revealing the true source of the donation was Legalise Vaping Australia.
In mid-2020, the organisation set up a "fighting fund" to oppose the changes to vaping regulations.
"After the former health minister [Greg Hunt] announced a ban on the importation of vaping products, with two weeks' notice and zero consultation, vape shops across the country donated over $100,000 to our organisation in less than a week," he said.
"Off the back of that, we held a series of vaping roundtable events to allow working-class vape shop employees and shop owners the chance to have long-form engagement with Members of Parliament."
Mr Marlow said these roundtable meetings included one with Senator Hughes, who was pictured on Facebook with him, as well as vaping advocate Colin Mendelsohn who is her prescribing doctor, and a number of vape shop owners.
Asked why he had declared the donations as coming from himself and not the Legalise Vaping Australia fighting fund, Mr Marlow said it had been simpler to do so.
"Trying to round up multiple shop owners, multiple employees, across multiple states and getting them to each individually pay for and book each roundtable ticket etc would have been too much work and akin to trying to herd cats," he said.
"To make things easier, I paid for everything, which meant I was required to make the relevant declarations."
Mr Marlow denied the source of the donations had been concealed. He declined to say which other politicians had attended roundtable meetings or explain in detail how the payments related to the events.
When Four Corners sought further clarification, Mr Marlow declined and said: "I really cannot be bothered wasting any more of my time trying to explain the bleeding obvious.
"Enjoy your smear campaign."
Senator used vapes to quit smoking
In an interview conducted before Four Corners learned the true source of the donations, Senator Hughes said she did not know what Mr Marlow had given to the party.
"There's nothing illegal to donating to the Liberal Party. There's nothing wrong with donating to the Liberal Party," she said.
Senator Hollie Hughes pictured with vaping advocates including Brian Marlow at a roundtable discussion
Four Corners later sent written questions to the senator regarding her knowledge of any donations from the vaping industry to the Liberal Party and her attendance at the roundtable meeting.
In a statement, Senator Hughes said: "The members of LVA [Legalise Vaping Australia] are salt of the earth everyday Australians.
"Many of these are – like me – vaping enthusiasts who turned to vaping in an effort to quit smoking.
"They tend to operate small, family-run vaping stores and they have come together to have their interests represented.
"As an elected representative, I regularly meet with a variety of industry representatives and business owners across a range of issues, as should all my colleagues."
A party spokesman said in a statement: "The Liberal Party discloses donations to the Australian Electoral Commission in line with our obligations under the relevant funding and disclosure laws."
Senator Hughes first became an advocate for vaping after she found it helped her quit social smoking.
"[I] got some of the vapes, had a go and have never, ever looked back," she said.
"So it was accidental quitting, is probably the best way to describe it and I guess that really re-emphasised to me how effective it can be as a smoking cessation tool."
A government-commissioned study on vaping, led by the Australian National University's Professor Emily Banks, reported in April that there was limited evidence that vaping helped people quit smoking.
T
he same study found vaping posed serious public health risks, including lung injury and nicotine addiction, and that vapers were three times more likely to go on to take up cigarette smoking.
Senator Hughes was one of 28 Coalition backbenchers who wrote to then-health minister Greg Hunt in mid-2020 to oppose a plan to ban the personal importation of nicotine without a prescription.
"Greg and I disagreed around vaping," she said. "It stemmed primarily from the personal choice aspect of it.
"If you want to vape, if you want to smoke, if you want to have a nicotine tab or spray, you should be allowed to do that."
Senator Hughes and her pro-vaping Coalition colleague Matt Canavan were outnumbered in the 2020 Senate inquiry into vaping.
A majority of the committee, including Liberal Sarah Henderson and Labor's Tony Sheldon, supported the sale of nicotine vapes only to those who were quitting smoking with a prescription from their doctor.
The University of Wollongong has found imported vapes often contain high levels of nicotine despite the ingredient not being listed on the packaging.
This article originally published by Four Corners
/ By Grace Tobin, Jeanavive McGregor, and Patrick Begley
Spin, Bullshit trumps Health
A damning review of
e-cigarettes

shows vaping leads to smoking, the opposite of what supporters claim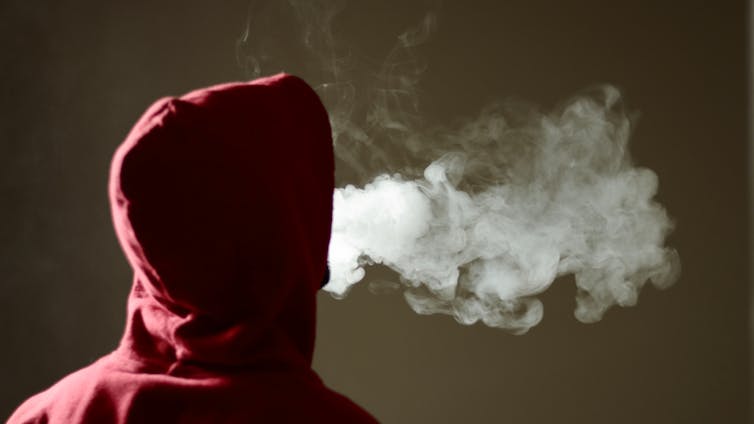 Paul Grogan, University of Sydney and Guy Marks, UNSW Sydney
A major review on the health effects of e-cigarettes reflects what public health advocates have feared – escalating use of e-cigarettes in school-aged children, early warning signs of increased smoking rates in young Australians, and direct health harms of vaping in all ages.
The review, which was released today, was commissioned by the federal health department and conducted by researchers at the Australian National University.
Overall, it found the health risks from e-cigarettes significantly outweighed any potential benefits.
The review should silence lobbyists, who have long used data selectively to promote the sale of e-cigarettes. This is despite the fact previous , none as comprehensive and rigorous as this latest review, have delivered similar findings.
What does the review tell us?
The review looked at the evidence behind the health impacts of e-cigarettes or "vapes" – a diverse group of devices that aerosolise a liquid for inhalation. These are touted as a safer alternative to cigarettes and an aid to quit smoking.
The review found conclusive clinical evidence e-cigarettes cause acute (short-term) lung injury, poisoning, burns, seizures, and their use leads to addiction. They also cause less serious harms, such as throat irritation and nausea.
Evidence e-cigarettes produce airborne particles in indoor environments (potentially harming non-users) was also conclusive.
Among evidence ranked as strong, the review confirms what has worried tobacco control experts since patterns of e-cigarette use first emerged.
People who have never smoked or are non-smokers are three times as likely to smoke if they use e-cigarettes, compared with people who have never used e-cigarettes.
This is a dream for tobacco companies and their retail allies.
Weighing up the harms and the benefits
The review found limited evidence e-cigarettes assist individuals to stop smoking. But this is no stronger than evidence showing e-cigarette use might also cause former smokers to relapse and revert to tobacco.
There is no conclusive or strong evidence in the review for any beneficial outcome from e-cigarettes.
E-cigarettes might help some individuals stop smoking. So they should only be available via a prescription from authorised medical professionals trained in helping people to quit. Any access beyond this risks serious harm for no benefit.
Young people are vaping
Australian Institute of Health and Welfare data show the age group most likely to use e-cigarettes in their lifetime are 18 to 24-year-olds. This has risen from 19.2% in 2016 to 26.1% in 2019.
Of e-cigarette users who identify as smokers, the second largest user group is 14 to 17-year-olds. Dual use is starting young, from the limited Australian Institute of Health and Welfare data we have.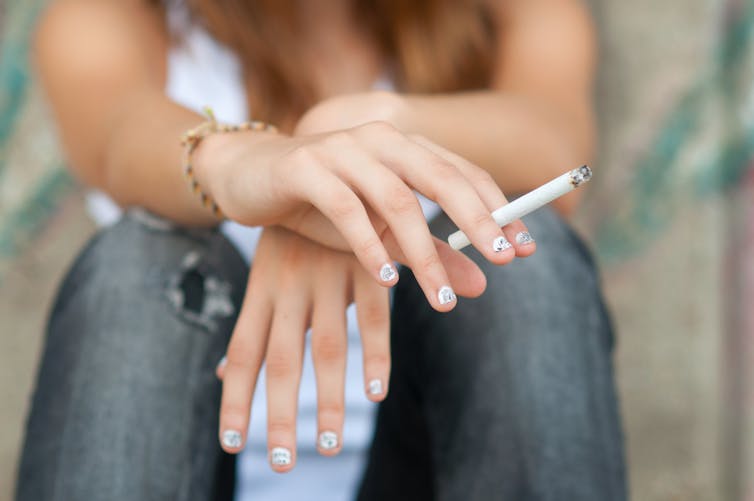 The Australian Institute of Health and Welfare data precedes increasingly visible use of e-cigarettes in Australian schools, reported in the media.
The review also shows young males are the leading e-cigarette user group by age and sex. Australian males aged 18-24 are also the only age group which, on the latest Australian Institute of Health and Welfare data, are smoking at greater rates than they were three years earlier.
We need to limit access
Whatever benefits might be delivered by e-cigarettes, such as helping people to quit smoking, would, according to the review, be modest compared with the harms they are likely to cause.
Unfortunately, public policy on the regulation of e-cigarettes is at risk of influence from powerful commercial interests. In the interests of public health, these forces must be resisted.
What should governments do?
Federal, state and territory governments have enacted policies aimed at providing e-cigarette access to individuals who might benefit from them to quit smoking, while protecting everyone else.
But the evidence on how widely e-cigarettes are used shows these policies need to be more tightly enforced.
It's still easy to buy e-cigarettes online, they are available without prescription from petrol stations, tobacconists, specialty "vape" stores and are on-sold by entrepreneurs – all of them acting unlawfully. Heavy fines will end their cash incentive.
The review shows the risks to public health posed by e-cigarettes will only grow unless governments enforce their laws.
This is to protect young Australians from becoming the first generation since trend data was collected to smoke and use nicotine at higher rates than their predecessors.

Paul Grogan, Adjunct Senior Lecturer, The Daffodil Centre, University of Sydney and Guy Marks, Professor of Respiratory Medicine, South Western Sydney Clinical School, UNSW Sydney
This article is republished from The Conversation under a Creative Commons license. Read the original article.