Discontinuation of defamation proceedings was no less remarkable than the decision to sue the minnow publisher
Lachlan Murdoch's federal court defamation action against Private Media Pty Ltd, publisher of Crikey, was never likely to end well. His decision on Friday morning to discontinue the proceedings was, nonetheless, stunning.
Murdoch is the CEO and executive chairman of Fox Corporation, which operates the Fox News channel. He sued over a 29 June 2022 article by Crikey's politics editor, Bernard Keane. The article concerned former US president Donald Trump's false claim that the 2020 presidential election was stolen from him.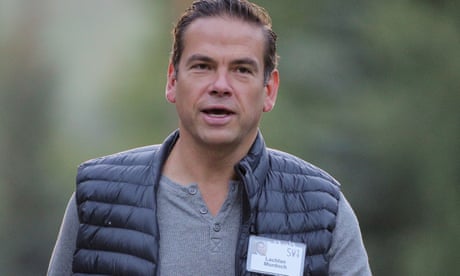 Referring to coverage of that claim by Fox, and the parlous state of American democracy, Keane opined that "the Murdochs and their slew of poisonous Fox News commentators are the unindicted co-conspirators of this continuing crisis". Murdoch identified 14 defamatory imputations that he said arose out of Keane's article. The central imputation was said to be that Murdoch had "illegally conspired with Donald Trump to overturn the 2020 presidential election result".
The bringing of the proceedings was surprising enough. At the time Murdoch sued, Fox was already the defendant in multiple suits in the US. The first and most prominent was brought by Dominion Voting Systems, which produces electronic voting machines that were used to process votes in 28 states during the 2020 election. Dominion claimed US$1.6bn in damages, arguing that its business had been damaged by Fox broadcasting false statements by Trump and others to the effect that its machines had caused votes that had been cast for Trump to be counted for the winner of the election, president Joe Biden.
Because of the idiosyncrasies of American defamation law, whether Fox's executives and presenters knew that those claims were false, and had amplified them for commercial benefit, was centrally in issue. As the pre-trial processes unfolded, a slew of embarrassing internal messages and other documents came to light. Murdoch, his father Rupert, and other Fox executives, were deposed on oath, giving rise to admissions and statements that would have provided fertile ammunition had the Dominion case proceeded to trial. Fox's competitors were no doubt salivating at the prospect of wall-to-wall coverage of the Dominion trial, including the cross-examination of Rupert and Lachlan Murdoch in addition to Fox's star presenters, including Sean Hannity, Jeanine Pirro and Tucker Carlson. The case was an ongoing nightmare for Fox and the Murdochs.
That nightmare was entirely foreseeable, even at this distance.
It is one thing to be an unwilling defendant in an action with the potential for embarrassment, reputational damage and financial consequences. No one chooses to be sued. It is quite another, however, while that nightmare is unfolding, to open another front, as a plaintiff, in relation to related subject matter, on the other side of the world, against a minnow of a publisher.
Murdoch's decision to sue Crikey is even more remarkable when one reflects upon the players. Proprietors of media organisations argue, with real force, that Australia's defamation laws inhibit freedom of expression and of the press to the detriment of healthy public discourse. Yet in this instance, one such proprietor, with unlimited access to platforms to put his side of the story, exercised his right to seek a remedy under those same laws against a fledgling competitor.
On Wednesday, Dominion and Fox settled their dispute in the US. As with most commercial settlements of litigation, the parties compromised. Fox agreed to pay Dominion $US787.5m (A$1.17bn), about half the amount Dominion had claimed. Fox acknowledged that it had aired falsehoods about Dominion, well short of the admissions Dominion was seeking.
The settlement spared Fox the embarrassment and reputational damage of a trial. It spared Dominion the risk of not reaching the high threshold required to succeed in a defamation action in the US, as well as the likelihood of cascading appeals, whatever the outcome. Considering the stakes for both sides, the fact that they worked to reach and achieved a settlement is not particularly surprising.
Prior to the settlement, however, the Dominion litigation was reverberating on our shores. On 11 April, the Crikey defendants amended their defence to plead reliance on a large volume of admissions and other statements made by Murdoch and others in their depositions in the Dominion case. They also added a defence of contextual truth, signalling that they would seek to prove – relying substantially on revelations from the Dominion case – that Murdoch was morally and ethically culpable for the violent storming of the Capitol on 6 January 2021, because Fox News, under his control and management, had knowingly promoted and peddled Trump's lies.
It can hardly have come as a shock that developments in the litigation in which Fox was a defendant in the US – developments that were themselves foreseeable – might provide fodder in the case in which Murdoch was a plaintiff in Australia.
The amendments to Crikey's defence upped the stakes. Instead of the focus being upon whether Keane had crossed the line in describing the Murdochs as the "unindicted co-conspirators" of the crisis in American democracy, the battleground shifted to whether Murdoch was in fact ethically and morally culpable for that crisis.
On Friday, unexpectedly, Murdoch discontinued his action. There was no compromise. He simply dropped the case, almost certainly meaning that he must pay Crikey's costs of the entire proceeding. The most his solicitor, John Churchill, could say, when announcing the discontinuance, was that while Murdoch remained confident of victory, he did not wish "to further enable Crikey's use of the court to litigate a case from another jurisdiction that has already been settled and facilitate a marketing campaign designed to attract subscribers and boost their profits".
The amendments to Crikey's defence and the settlement of the Dominion case certainly provided cover for that explanation. It leaves unanswered, however, how anyone could have thought it was a good idea to bring the case in the first place.
Article originally published by The Guardian
The largest-ever public settlement for an American defamation case against a media outlet was struck this week in a last-minute derailment of what was shaping up as the media trial of the century. The deal, which CNN's Jake Tapper called "one of the ugliest and most embarrassing moments in the history of journalism", was announced just as opening statements in Dominion Voting Systems' defamation case against Fox Corporation were due to begin in Delaware's Superior Court late on Tuesday.
But the $US787.5 million that Fox has agreed to pay was less than half the $1.6 billion in damages claimed by the Canadian voting-machine manufacturer. It was described as "chump change" by one Murdoch associate, and Yahoo Finance anchor Dave Briggs told Vanity Fair it would "barely move the needle" at Fox, where he once worked. Investors agreed. Fox shares closed only marginally lower on Wednesday, and brokers SVB MoffettNathanson wrote that it was unclear whether there had been "much, if any, impact of these lawsuits on Fox News's viewership and business".
The settlement put an end to two years of litigation in which Dominion alleged Fox presenters had defamed it on air at least 20 times, falsely accusing it of flipping votes from Donald Trump to Joe Biden during the 2020 US presidential election. A discovery process had unearthed hundreds of thousands of pages of extremely damaging evidence against Fox – including sworn testimony from Rupert Murdoch himself.
News that the parties were trying to settle came on Sunday when Judge Eric Davis delayed the opening hearing of what was expected to be a six-week trial. Those last-minute talks proved fruitless and a jury was sworn in on Tuesday morning. After lunch, however, a packed courtroom waited without explanation for more than two hours until Judge Davis emerged to declare "the parties have resolved their case".
The deal was brokered by veteran mediator Jerry Roscoe, who dialled into talks from a holiday in Europe even as trial preparations gathered pace, with Dominion notifying Fox that Rupert Murdoch and the outlet's star presenter Tucker Carlson would be among the first witnesses it called.
"Presence in the courtroom often tends to crystallise the focus of the risks and benefits of litigation," Roscoe told CNN. "Once the jury sits down and you're looking at people who are going to decide your fate, it's an awakening experience."
Another motivation to settle may have come from Judge Davis's appointment that morning of special master John Elzufon to investigate whether Fox had complied with its discovery obligations, after it emerged Rupert Murdoch had an executive role at Fox News, along with his responsibilities as non-executive chairman of the parent entity. The investigation was dropped as part of the settlement.
The settlement also included an acknowledgement by Fox News of previous rulings by the court that the claims it aired about Dominion were false. "This settlement reflects Fox's continued commitment to the highest journalistic standards," a statement from the broadcaster declared. On CNN that evening, Tapper joked it was difficult to read with a straight face.
Dominion chief executive John Poulos said Fox had "admitted to telling lies about Dominion that caused enormous damage to my company, our employees, and our customers. Nothing can ever make up for that. Throughout this process, we have sought accountability and believe the evidence brought to light through this case underscores the consequences of spreading and endorsing lies. Truthful reporting in the media is essential to our democracy."
Lachlan Murdoch has clearly decided to try and draw a line under the 2020 election, and move on. On Friday, his Australian solicitor John Churchill announced that Murdoch had suddenly dropped his own controversial defamation proceedings against Crikey publisher Private Media, launched after republication of an article calling him an "unindicted co-conspirator" with Trump in the January 6 insurrection. In a statement, Churchill said it was "a matter of public record that Crikey admits that there is no truth to the imputations that were made about Mr Murdoch in the article." The case was set down for trial in October, but in recent pre-trial hearings, Private Media has sought to update its defence to include evidence revealed during discovery in the Dominion case, which could have delayed the hearings in Sydney until well into next year.
Murdoch will bear his own costs, and will be liable for the bulk of Private Media's costs – likely reduced by the $588,000 that Crikey raised from the public in a fighting fund. The total cost to Murdoch will probably run to millions, but it is a small sum compared with the Dominion settlement. The Saturday Paper understands Murdoch saw no point in settling the main case in the US, while having the same evidence litigated and debated in Australia for at least another year. A joint statement from Private Media chair Eric Beecher and chief executive Will Hayward declared, "We are proud of our stand. We won."
Australian broker Angus Aitken, principal at Aitken Mount Capital Partners, concedes the $US787.5 million payout to Dominion was larger than the half-a-billion dollars many analysts had pencilled in, and larger than his own estimates, but he's still bullish on the company that generates $US2 billion of cashflow a year. "[That] means you are paying the equivalent of less than two-quarters of free cashflow. The company has $US4 billion of cash on [the] balance sheet … and the ratings and revenues for Fox News have increased, not decreased. So the business is operating more strongly than any point in its life cycle, and the company can continue to buy back stock and look at growth regardless of this one-off payment."
Whether the payment will prove a one-off is, however, highly uncertain. Fox News faces an even larger $US2.7 billion claim from another voting-machine manufacturer, Smartmatic, which also says it was defamed by Fox. In a statement, Smartmatic attorney J. Erik Connolly said the Dominion case had "exposed some of the misconduct and damage caused by Fox's disinformation campaign. Smartmatic will expose the rest."
It is not clear that all of the evidence discovered during the Dominion case will be produced in the Smartmatic case, however. Fox News vowed to defend the suit, which will likely be heard in New York in 2025. On Monday, Fox filed an amended counterclaim, including a report by finance and law professor Daniel Fischel that argues Smartmatic's damages claims are "implausible, disconnected from reality, and on its face intended to chill First Amendment freedoms".
Fox also faces a string of shareholder suits, including one filed last week by Robert Schwarz, alleging directors breached their fiduciary duties, in allowing the false allegations against Dominion and others to go to air. Lawyers for Schwarz did not respond to a request for comment this week, but it is likely that shareholders will ask hard questions of Fox directors about the management and editorial practices that resulted in such costly litigation, and seek assurances that changes will be made to prevent a repeat occurrence.
Speculation has increased that the Murdochs may need to make a "blood sacrifice" to placate shareholders and other stakeholders. Only last month, Lachlan defended Fox News Media chief Suzanne Scott, whom he appointed after the ouster of network founder Roger Ailes in 2016. Focus may shift to the responsibility of Fox's chief legal and policy officer Viet Dinh, who is the most powerful and best-remunerated executive at the company after Lachlan himself – and godfather to Lachlan's eldest son – but whose role may come under pressure amid perceptions that the legal strategy in the Dominion case was flawed.
The Murdochs have been willing to make eight- or nine-figure payouts to settle aggrieved shareholder claims in the past. Among them are payments related to the British phone-hacking scandal – for which total accumulated liabilities has exceeded £1 billion, acquisition of Elisabeth Murdoch's Shine Group television production company, and past allegations of predatory conduct in the News America Marketing division.
Potential payouts from Fox News's coverage of the 2020 presidential election and Trump's "Big Lie" could easily exceed the losses from any previous crisis, but the expectation remains that Fox will not only survive but continue to prosper.
"The prevailing wind is that Fox's core business model will endure just fine," says Angelo Carusone, president of activist group Media Matters for America, which has campaigned against Fox News for years. "The sum is not significant enough to break or neutralise Fox. And if you look at the past, it doesn't really matter what the scandal is, or how many layers you peel back and see how rotten the core is, the fundamentals of the business have never changed. That's because the Murdochs have built a business apparatus that itself is mostly insulated from the typical sort of checks of market pressure …[so] I understand why the stock hasn't moved, because the assumption is that the Murdochs will prevail."
Most commentators have zoomed in on the desire of Fox Corporation, and in particular chief executive Lachlan Murdoch, to keep his 92-year-old father off the witness stand. Certainly, there was a view inside Fox that Rupert's frank deposition – in which he admitted that prime-time hosts including Sean Hannity and Maria Bartiromo had endorsed the baseless stolen election claims of the Trump campaign – helped Dominion more than anything Lachlan said.
According to Carusone, however, there was a broader commercial context for Fox's decision to settle the Dominion case. This month, the network enters renewal negotiations with three large cable television providers in the US – Comcast, Charter and Cox – who pay lucrative fees to carry Fox News and other channels to tens of millions of subscribers. These carriage fees are a critical source of income for Fox. Last year, Fox had a standoff with DirecTV, the commercial outcome of which was never publicly disclosed.
"The Murdochs never lose these fights," says Carusone. "Part of the reason why this stock hasn't changed is that investors assume that they are going to win every one of these fights."
Carusone says the three-year contracts to be renewed this month are worth some $3 billion combined – heavily outweighing the amount of the Dominion payout – and will set a vital benchmark for further carriage fee contract renewals. Income from carriage fees has insulated Fox News from loss of advertising revenue as corporate clients in the past have pulled back from the network's more controversial prime time programming.
"This is Lachlan's big thing," says Carusone. "When advertisers started leaving the network at scale, you know, a couple years back, his big assurance to shareholders was, 'Look, it's going to be fine. Because we are going to make up this difference with these carriers contracts.'
"So in a way, if you're a really close Fox investor, you kind of knew this [Dominion settlement] was coming. They basically built the risk into their business model: we are going to burn hot, and so there is a chance that there's going to be some scorching here and there, but by burning hot, we can leverage that for these extreme contract renewals."
When cable providers baulk at the increases, Fox News has historically been able to exert pressure by rallying its audience with pressure campaigns to "Keep Fox".
"Fox knew the significance of these contract renewals," says Carusone, adding the public scrutiny would have made it very difficult for them. "I mean, you can't be in a courtroom and a boardroom at the same time. And it is more important for the Murdochs to be focused on the boardroom."
This article was amended on April 22, 2023, to include a statement from Private Media executives, and to clarify the status of a cable television contract.
This article was first published in the print edition of The Saturday Paper on April 22, 2023 as "Fox in stocks".