Jim Chalmers' 'restraint' budget the first stage of a marathon for the treasurer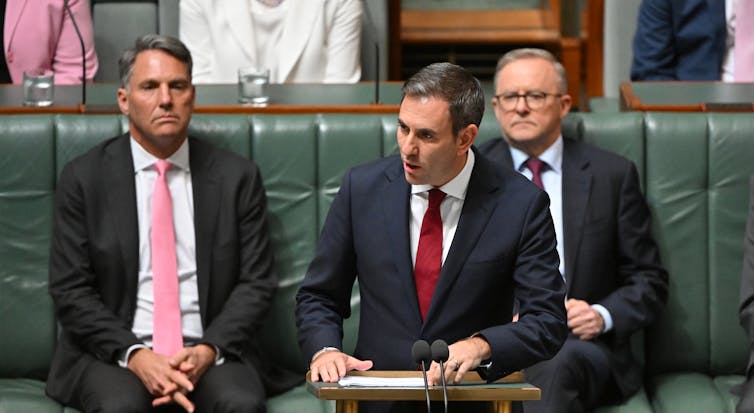 Michelle Grattan, University of Canberra
Jim Chalmers' inaugural budget plants its feet as solidly as possible in the shifting sands of difficult and unpredictable international and local conditions.
Chalmers promised the budget would be "workmanlike", not "flashy", and he's kept his word. Almost all of it had been pre-issued by the government, including measures and numbers.
This can be seen as an interim budget, a new government taking stock and getting some early action under way.
At one level, the budget does the easy things.
It hoes into some relatively soft targets left by the Coalition, which distributed giveaways galore as it became desperate before the election. And it it implements a raft of promises on which Labor campaigned.
---
---
But framing any budget in such uncertain times involves tricky trade offs and careful judgement. So the opposition's "line" before Tuesday – that this is just in effect a mid-year budget update – greatly understates the task.
The government has been sensibly cautious. Keeping spending tight was vital. Despite the hard times and the pressure to give people help, any splurging would have been inflationary and at cross purposes with the Reserve Bank's efforts to cool the economy.
Interest rates are set to go up again before Christmas anyway – so the worst thing would have been a fiscal policy that forced the bank to push them up even further.
The emphasis on delivering election commitments in this first budget is important because it builds voter trust – and thus political capital – early in the government's term.
---
---
On this front, Prime Minister Anthony Albanese was wise to pull back from Chalmers' inclination to refashion the Stage 3 tax cuts. That would have transformed the budget story from "promises kept" to "promise broken", with the potential to sour Labor's compact with the electorate.
"Restraint is the name of the game in this budget," Chalmers said at his news conference in the media "lock up". While Tuesday's effort passes the "restraint" test for now, it is obvious that there are tough decisions ahead.
The numbers show the deficit increasing in the second, third and fourth year of the forward estimates. Outlays in areas such as the National Disability Insurance Scheme (costed at nearly $52 billion in 2032-33 and potentially rising to well over $100 billion in 2032-33) will have to be tackled, and that will be much harder politically than cancelling a Coalition dam or some car parks.
---
---
The economists will like the budget, but what about the ordinary voters?
Leaving aside those in the pockets hit by the cuts, they are unlikely to be hostile. But nor will they see much in it for them.
And they will be dismayed by the horrendous forecasts for electricity and gas prices, and how far away is the hope of real wage rises. But more broadly, they will be already across the inflation story from their daily lives.
The promises on cheaper child care, lower costs for medicines, and more affordable housing are branded as part of "responsible cost of living relief".
But it's a misnomer. Only a minority of people at any one time will benefit from the child care changes. Housing will remain unaffordable for many people.
As cost-of-living relief, the budget measures pale when put beside the coming massive power costs and the interest rate rises of the last few months and those ahead.
This is not to say the budget should have given more direct cost-of-living assistance. It's just to note some there is some hyped "branding" by a government that puts a lot of store on how it labels things.
---
---
Chalmers emphases this is the first of a suite of budgets, which will be preceded by "conversations". It's a fair bet the later ones will generate stronger headlines.
The future cuts will be more controversial. And at some stage the government will visit the tax issue, although when and in what form is unknown. "I think tax needs to be part of the conversation going forward," Chalmers told the media.
It's been a hard few months for Chalmers. But in reality, he's been in the easy stage of what will be a marathon.

Michelle Grattan, Professorial Fellow, University of Canberra
This article is republished from The Conversation under a Creative Commons license. Read the original article.
For parents
The government says more than 1.2 million families will benefit from its decision to lift the maximum child care subsidy rate from 85 per cent to 90 per cent for families for the first child in care.
It will also increase subsidies for every family earning less than $530,000 in household income
The nation's competition watchdog will conduct an investigation into the spiralling cost of child care
As promised at the election, Labor will also extend the paid parental leave scheme from 18 to 26 weeks, costing taxpayers $531.6 million over four years
An extra fortnight of leave will be added to the scheme each year until the full 26 weeks is available from July 2026
The government will also spend $32.1 million over four years on programs to improve mental health, pregnancy and post-natal support for new and expecting parents.             
For home buyers
The government has set an "initial, aspirational national target" to build one million new homes over five years from 2024
It has chipped in $350 million to build 10,000 of those dwellings, with the states and territories to build an additional 10,000 homes under the agreement
The government hopes that funding will entice superannuation funds and other institutional investors to also make investments in housing by covering the gap between market rents and subsidised rents
Labor also promised at the election to spend $10 billion on its "Housing Australia Future Fund" to generate returns to fund 30,000 affordable and social homes over five years
Another government housing program is the Help to Buy scheme – costing $324.6 million over four years – which gives eligible home buyers an equity contribution to buy a home with a smaller deposit and mortgage.
For older Australians
The government will mandate the average number of care minutes for aged-care residents from October next year
From July, all aged-care homes must have a registered nurse on site 24/7
The Maggie Beer Foundation will receive $5 million to educate and train aged-care sector staff to meet new nutritional standards
A new statutory watchdog role – called the Inspector-General of Aged Care – will be set up to investigate systemic issues
Pensioners will receive a once-off credit of $4000 to their work bonus income bank to support those who want to work or work more hours without losing their pension
The government will also spend $69.6 million over four years to increase the income threshold for the Commonwealth Seniors Health Card from $61,284 to $90,000 for singles and from $98,054 to $144,000 (combined) for couples.
For students
The government will fund 480,000 fee-free TAFE and vocational education places in industries and regions facing skills shortages, costing $931.7 million over five years
An additional $491.8 million will be spent over four years on 20,000 new government supported university places for under-represented peoples, prioritising areas of skills shortages such as teaching, nursing and engineering
Labor will create a new upgrade fund to prioritise construction and new equipment at primary and secondary schools, costing $270.8 million over two years
A new mental health and wellbeing plan aimed at students will also be created, costing taxpayers $203.7 million over the same period.
For patients
The government will spend $1.4 billion over four years to expand and amend Pharmaceutical Benefits Scheme (PBS) listings to include new medicines, including treatments for COVID and cancer
Another $787 million over the same period will be spent on reducing PBS patient co-payments from $42.50 to $30 on January 1, 2023. This reform will have an ongoing cost to taxpayers of $233.4 million a year
An election pledge to set up urgent care clinics across the nation to provide an option for 24/7 care outside hospital emergency departments will cost taxpayers $235 million over four years
Grants for general practitioners totalling $229.8 million over two years will help them invest in staff training, equipment and other "minor capital works" to improve digital healthcare capabilities
A plan to fund improved access to health care in regional areas, including by investing in more healthcare workers outside major cities, will cost $143.3 million over four years.
For migrants
The government will increase the number of permanent migration visas from 160,000 to 195,000 from next year to ease workforce shortages, with priority to be given to skilled New Zealanders
Up to 3000 Pacific Island and Timor-Leste nationals will be able to apply for a new "Pacific Engagement Visa" each year
The government has also budgeted $42.2 million over two years speed up visa processing.
For motorists
In a bid to improve electric vehicle uptake, the government will exempt electric, hydrogen and plug-in hybrid vehicles from fringe benefits tax and import tariffs, costing the budget $345 million in total over four years.
Internet users
An additional 1.5 million homes will be connected to the National Broadband Network by late 2025 under a $2.4 billion equity injection into the taxpayer-owned internet wholesaler.