The $741m Resilient Homes Fund is designed to help home owners affected by flooding
Who is eligible and how does it work?
Queensland Deputy Premier Steven Miles has deemed the new state and federally funded flood assistance package the "largest household resilience program" in Australian history.
Tagged the Resilient Homes Fund, those affected by the flooding throughout Queensland can apply now for part of the $741 million on offer.
The fund allows Queenslanders whose homes were damaged by floods to access grants to raise, repair, retrofit, or have their home voluntarily bought back.
Find out if you're eligible, how much money you might be able to access, and how you can use the funds below.
Am I eligible?
The fund was launched in the wake of February's flood disaster in south-east Queensland but isn't confined to those affected in that event.
Home owners across 37 local government areas impacted by flooding in any of the following weather events are eligible for the scheme:
Central, southern, and western Queensland rainfall and flooding — November 10 to December 3, 2021
Ex-Tropical Cyclone Seth — December 29, 2021, to January 10, 2022
South-east Queensland rainfall and flooding — February 22 to March 7, 2022
What funding is available?
The Resilient Homes Fund is broken down into three areas of funding for home owners: rebuilding and retrofitting homes, raising homes, and buying-back homes.
Resilient household rebuild program
Grants of up to an estimated $50,000 will be available to retrofit and rebuild 5,500 eligible flood-affected homes. This could involve using flood resilient materials, moving power outlets above previous flood levels to maintain power through inundation, and changing the design of the home for better water flow.
Home raising program
Grants of up to an estimated $100,000 will be available to 1,000 eligible flood-affected homes. This may involve lifting living areas and rooms above a recognised flood level to prevent inundation.
Voluntary home buy-back program
Up to an estimated $350 million will be dedicated to voluntary buybacks of up to 500 homes. These homes will likely have been deemed unsuitable to raise or retrofit.
Buybacks will be assessed on a case-by-case basis and will take into account things like frequency and severity of flooding, future flood risk, and the structural safety of the home.
How does the process work?
Queensland Reconstruction Authority chief executive Brendan Moon said people who think they're eligible for the program must register online.
"What is it they need to support their recovery here? Is it a retrofit, is it a home raising or are they asking us to consider a buyback?" Mr Moon said.
"What's important in this registration of interest process is it will allow us to get an understanding of where peoples' recovery is at and what is important for them in their own region.
"Each community's needs are very different and this registration of interest process will allow us to better understand that and it will guide the completion of the guidelines so that we can actually tailor the program to deal with those more vulnerable and those with the greatest flood risk."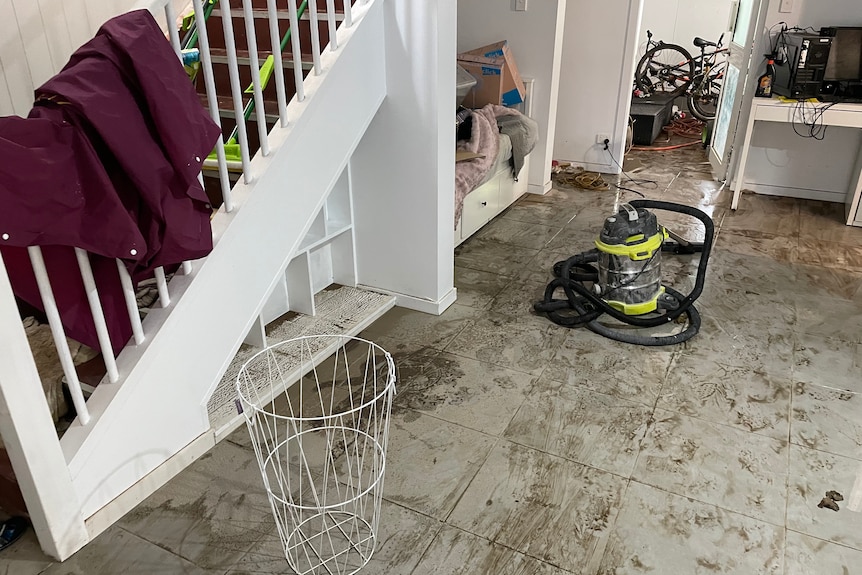 Government officials stressed the money available will not be handed out to flood victims.
Each case will be assessed uniquely and the size of the grants will be tailored to the needs of the property. The money will then be used to fund government-contracted tradespeople to complete the works.
Mr Moon said voluntary buybacks will follow the process used in the 2011 floods.
"It will require an independent valuation of the property and where agreement can be reached, there'll be a transaction.
"The home will be demolished and also the land we are looking to rezone not for future urban habitation."
What other assistance is available?
In the wake of the February flood disaster, Structural Assistance Grants were hiked from $14,684 to $50,000, at a cost of $38 million.
These grants are available to the same properties affected by the three flood events listed earlier in the article regarding the Resilient Homes Fund.
The Structural Assistance Grant is income tested and has a number of eligibility requirements.
For my information, head here.
How to register
If you think you might be eligible for the Resilient Homes Fund and want to register, or simply want more information, head to this
.
W

hat the SAG is
Uninsured, low income, owner-occupiers may receive up to a maximum of $50,000 to help repair your home to make it safe, secure and habitable.
Who can apply
You must meet all these requirements:
the residential dwelling that you're applying for a grant for must be within an eligible area affected by the disaster event.
you were living in the residential dwelling (which includes a caravan or boat) as your principal place of residence (main home) when the disaster happened.
your home sustained structural damage as a result of the disaster.
you must own or have a mortgage on the residential dwelling. If multiple dwellings are on the same property and are not separately metered, we can assess them as separate households if you can demonstrate you live independently of each other.
you must not hold an insurance policy that covers you for expenses or losses sustained during the disaster.
if you hold an insurance policy:

you do not have coverage for a particular event (e.g. storm/flood) and/or
you must have evidence that the insurance claim has been declined.

you must qualify under the income test outlined below.
We will send specialist assessors to your home to confirm it was damaged, destroyed or is unfit to live in as a direct result of the disaster and to assess the scope of works needed to return it to a safe, secure and habitable status.
Income test (how much you earn)
Your gross (before tax) weekly income must be less than:
individual: $988 ($51,398 per year)
couple: $1,367 ($71,061 per year)
sole parent, one child: $1,368 ($71,110 per year)
couple, one child: $1,694 ($88,111 per year).
For each additional child, add $327 per week.
For each dependent adult, add $378 per week.
The income of any other adult in the household is not included. Where a property is jointly owned by 2 or more unrelated people, the income test is applied to all owners.
What isn't covered
You can't apply to repair:
investment properties, such as holiday houses or rental properties.
structures that are not legally approved residential dwellings.
assets such as caravans, sheds and boats that are not your primary place of residence.
damage that existed before the event
property maintenance work.
How to apply
You can apply for this grant either:
What you need to apply
You need to have:
date and details of the damage
proof that you own or have a mortgage on your home
either:

a statutory declaration advising that you do not hold an insurance policy; or
evidence from your insurance company confirming you do not have coverage for the particular event (e.g. storm/flood); or
evidence that your insurance claim was declined

evidence that you meet the income test (e.g. payslips, Centrelink benefit statement or Australian Taxation Office notice of assessment).
To complete your application, you will also need to provide evidence of your identity and place of residence. This can be:
Driver licence or other photo identification
Medicare card showing members of your family that you are applying for.
If you don't have this information, you will need to provide other evidence that shows your name, date of birth and address.
For help with your application, call the Community Recovery Hotline on 1800 173 349 or visit a Community Recovery Hub.
How to replace lost or destroyed documents.
What happens next
When your application is complete, we'll call you to arrange a visit to your home (virtual and/or face-to-face) by a member of the Community Recovery team to assess the damage.
We'll inspect your property to identify what is needed to make your home safe, secure and habitable. If you have also applied for an Essential Services Safety and Reconnection Scheme grant, we'll also do safety checks for reconnection of electricity, gas, water, hot water, sewerage services and septic systems.
We'll then prepare a scope of works, including the estimated cost of repairs. The grant amount will not be more than the property's pre-disaster value. Once the scope of works is approved, we'll give you a copy and you may be asked to sign a statutory declaration before any funds are paid.
Once you receive the grant payment, you have 12 months to complete the repairs.
How it's paid
The grant can be paid to you or directly to the tradesperson completing the repairs.
The grant can be paid by either:
electronic Funds Transfer (EFT) to the bank account you listed in your application. The timing depends on when your bank processes the payment.
cheque mailed to the address in your application.
Support with repairs
We'll contact you regularly to see how your home repairs are progressing and if you need any more support.
If you need help to get quotes or contract repairers, call the Community Recovery Hotline on 1800 173 349.