Premier Berejiklian, please make public your stadium figures
Asked Premier Berejiklian "Where, in the history of the world, has a government ever modernised an existing piece infrastructure at a cost of billions of dollars and got an annual rate of return of 50 per cent to pay it back in two years?
But, again, let me put forward the analysis I did on Saturday, which no one in the government, or in emails, or on Twitter, has landed a glove on.
See, for the Premier to make that claim, the operative number is not just what the new stadiums will generate in profits, it is the difference between what the current stadiums are generating now, and what the new stadiums will generate when completed, yes? To be remotely justifiable, those extra profits would have to pay back the extra $2 billion, yes?
And where can those extra profits come from? For her numbers to stack up, the two new stadiums need on average an extra 100,000 people a week, every week, turning up and spending an extra $200 a week. And all of that $200 must go into the coffers of the NSW government.
Premier, I am respectfully calling on you publicly, twice now, to show us how that can possibly be the case".
Instead of rebuilding stadiums, the NSW government should focus on local sport and events
Chris Gibson, University of Wollongong
The New South Wales government's argument for spending A$2 billion rebuilding stadiums is that Sydney is losing flagship events to other state capitals, leading to fewer tourists and less media exposure. But large investments in transportation and venues are a significant drain on the public purse, often for economic returns that rarely break even.
Our research suggests that the NSW government should invest in smaller community events and sporting organisations that make use of existing facilities. We tracked 480 community events across Australia and found that they generated A$550 million in revenue.
These events also contribute more than A$10 billion a year to their local communities, support 100,000 jobs, and help build local business networks and skills.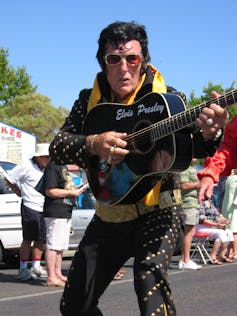 Parkes Elvis Festival.
John Connell and Chris Gibson (2017) Outback Elvis: The story of a festival, its fans & a town called Parkes. Sydney: NewSouth Publishing
The benefits of grassroots events
In contrast to major, one-off events that require large infrastructure and marketing budgets, there are thousands of small community events across Australia every month. Each might only attract a few hundred people, but the revenue adds up.
Places that have consciously fostered grassroots community events, such as Ballarat and Hobart, enjoy healthy visitor numbers year-round, without overwhelming the local infrastructure.
Smaller community events make good use of existing facilities such as RSL clubs, showgrounds and parks. They tend to hire labour, PA systems, portaloos and catering from the local community, keeping dollars in circulation locally.
In contrast to mega-events that subcontract management to large firms, community events integrate more participation from their local communities. This not only improves local business networks, but also enhances local skills and leadership.
The economics of large events doesn't stack up
The evidence also overwhelmingly shows that public investment in major events isn't worth it. Promised benefits are often exaggerated, and in the words of a recent review of the international research:
…any increased economic activity resulting from the event is routinely dwarfed by additional public budgetary commitments.
---
Read more: Suspended reality: the ins and outs of Rio's Olympic bubble
---
Sydneysiders may have enjoyed the experience of hosting the 2000 Olympic Games, but increases in tourism and business investment failed to materialise. Rio de Janeiro is struggling with recession in the wake of its 2016 Summer Olympics. The money spent on the Olympics would probably have been better spent upgrading hospitals and other infrastructure.
This is partly why cities are backing away from hosting major sporting events. When the International Olympic Committee opened the bidding for the 2024 Summer Olympic Games, all but two cities – Paris and Los Angeles – withdrew their bids.
The fact that no other city was prepared to bid shows that the justifications for lucrative mega-events are wearing thin, both financially and politically.
Misleading numbers
The NSW government recently defended its plan to rebuild stadiums by arguing that the revenue generated by major sporting events will easily pay for itself within a few short years. Economists beg to differ.
Such estimates are typically based on conducting visitor surveys at events and asking punters to estimate their total spending. This is not good research methodology.
For one, people are consistently inaccurate at estimating their spending on the spot, only discovering the actual amount when they open their credit card statements.
It can also be hard for visitors to differentiate between money spent while at a specific event, and their spending elsewhere on their holiday.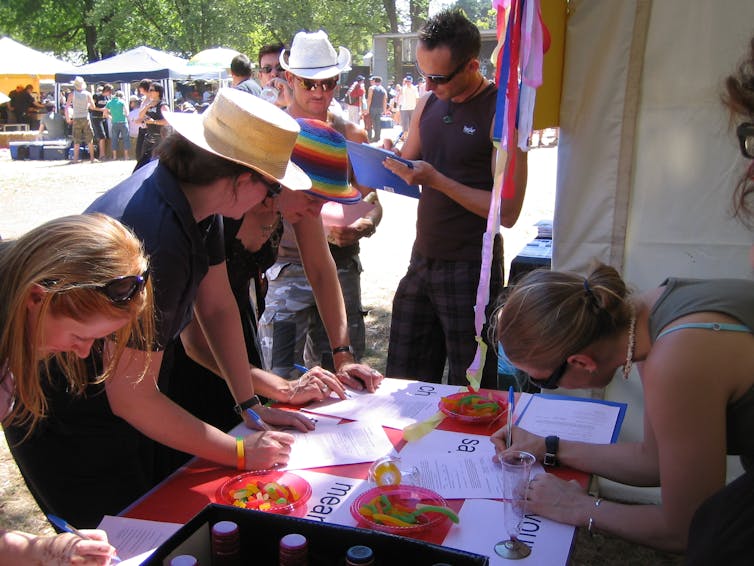 Visitors complete surveys at the Daylesford ChillOut Festival.
Chris Gibson
We also need to subtract all of the money that would have been spent whether or not a major event takes place. This includes spending by people who live in the area, those who rescheduled travel plans to coincide with the event, and those who would have done some other activity (also known as "time-switching") instead of going to the event.
---
Read more: Sydney's stadiums debate shows sport might not be the political winner it once was
---
In other words, take all the Sydneysiders, casual visitors and time-switchers out of calculations of, say, weekly NRL game revenue at the Olympic or Sydney football stadia. The actual amount of "new" revenue for Sydney is much less impressive.
This is why a sober analysis of the true costs and benefits, and actual revenue numbers, are needed before governments rush to invest in major sports and event infrastructure.
If NSW truly wants to foster the events economy, the evidence suggests that money would be better spent on local community events and sporting organisations.
Chris Gibson, Director, UOW Global Challenges Program & Professor of Human Geography, University of Wollongong
This article was originally published on The Conversation. Read the original article.